Rainforest World Music Festival 2023

Are you excited about the upcoming Rainforest World Music Festival 2023? The three-day music festival will feature performances by renowned world musicians against the tranquil backdrop of Sarawak's rainforest.
In addition, this year's festival will make its physical return on June 23-25, 2023, at Sarawak Cultural Village. Continue reading Cik Min's entry on Rainforest World Music Festival 2023.
The Origin of Rainforest World Music Festival
The Rainforest World Music Festival has been a major annual music festival in Sarawak since its inception in 1998. Visitors and families flock to the live stage at Sarawak Cultural Village to witness the magnificent event.
The festival has since grown to become an internationally recognized music festival. It was named one of Songlines Magazine's Top 25 Best International Festivals for six years in a row (2010–2015).
The festival includes performances ranging from traditional music to world fusion and contemporary world music. This festival, which features ethnic and folk acts from around the world, aims to appeal to both music fans and culture enthusiasts.
There, you will find various zones of activities available in the location. This includes local handicrafts and merchandise presentations, workshops, talks, music performances, and a tour of Sarawak's famed living museum.
List of This Year Performers
This year's lineup will include 199 musicians from 12 countries and three continents performing a wide range of music genres.
Performers include:
1. Grammy Awards winners; Gipsy Kings featuring Tonino Baliardo from France
2. Big Mountain from Jamaica/USA
4. Fasylive from Maldives
5. Afriquoi from the United Kingdom
7. Rizal Hadi & Folk from Indonesia
8. Ethno Thai Fusion Sound Band from Thailand
9. Safi Theatre from Tanzania
**Performers from Japan, Hong Kong, and Singapore will also be on the bill.
Tickets to Rainforest World Music Festival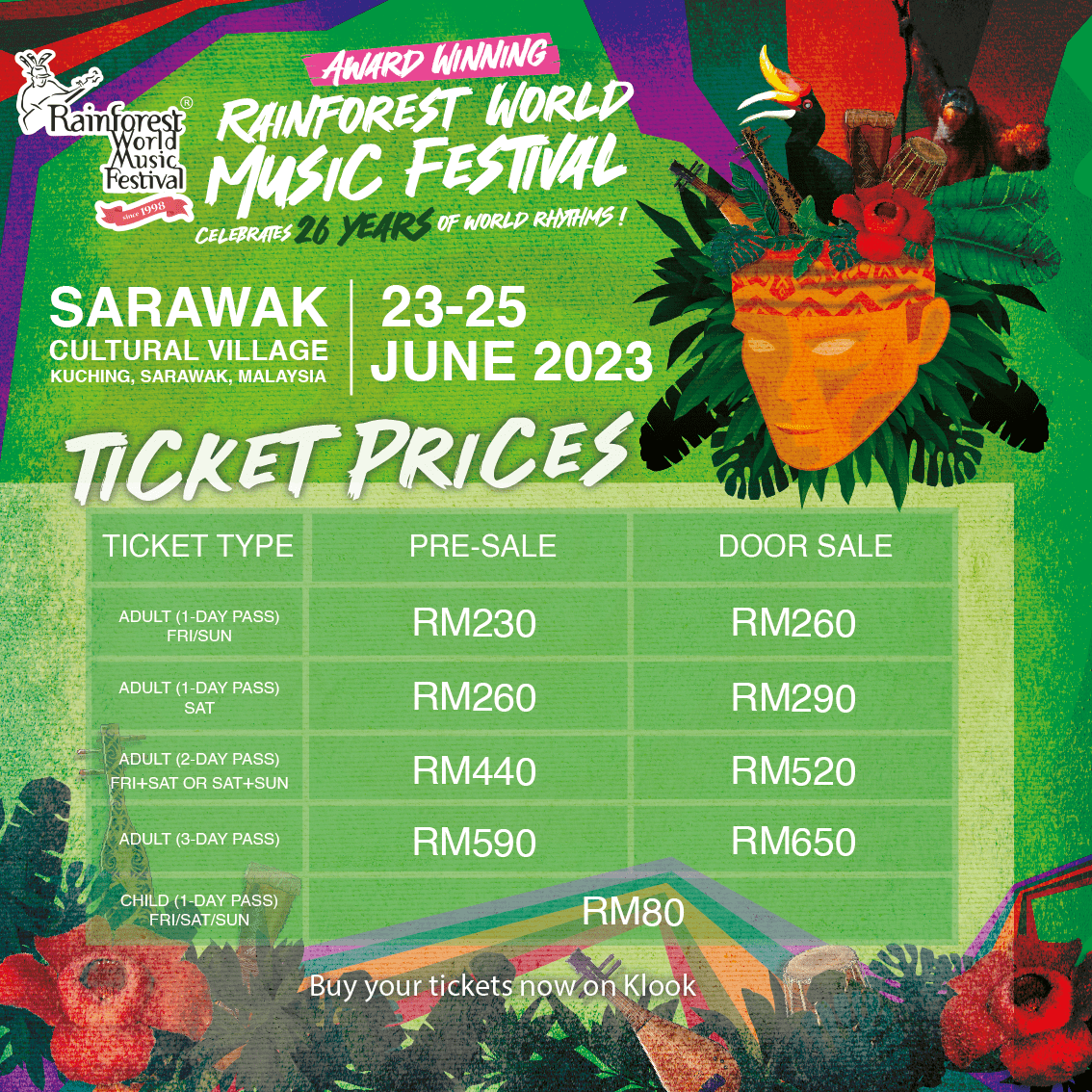 Purchasing tickets for the Rainforest World Music Festival 2023 in advance saves you a lot of money. You can get your tickets here.
How to Get There?
Sarawak Cultural Village is a 45-minute drive from Kuching's city center. If you prefer to save money, you can take a shuttle bus between the Cultural Village and Kuching. It departs every hour and will do so throughout the day.
Location: Sarawak Cultural Village, Damai Beach Resort, 93762, Kampung Budaya Sarawak, 93010 Kuching, Sarawak.
Twitter | Facebook | Instagram | Youtube | Website
Want to find more articles like "Rainforest World Music Festival 2023"? If yes, kindly head to our portal, Cerita Malaysia today.
---
Disclaimer: The web administrator is not responsible for any of the sender's comments or posts in the site's comments section. The sender is solely responsible for any comments or posts made.
Trend, Travel & Filem.