Dukun Diva – A Unique Anti-Hero Story Featuring Malaysia's First Female Con Artists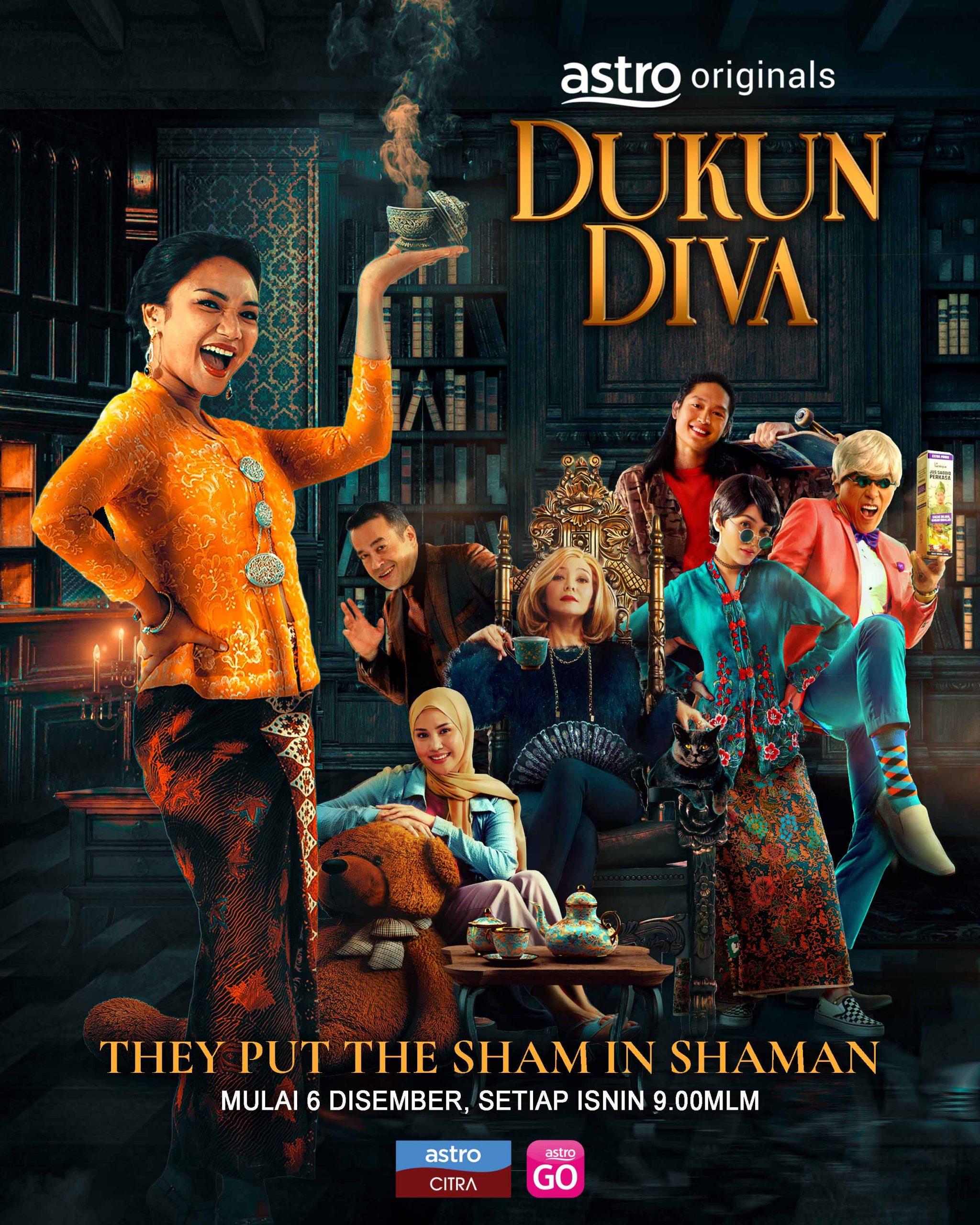 'DUKUN DIVA' – ASTRO ORIGINALS BRINGS A UNIQUE ANTI-HERO STORY FEATURING MALAYSIA'S FIRST FEMALE CON ARTISTS
"Together, they put the sham in shaman"
Kuala Lumpur, 30 November 2021 – Following I-Tanggang, the first drama in Malaysia to highlight the plight of Munchausen Syndrome by Proxy, Astro presents another premium drama series through the Astro Originals line-up with DUKUN DIVA, the first local drama to revolve around female con artists and focuses on anti-heroes. The series, packed with elements of drama, comedy, action, and investigation, will be available for viewing starting 6 December, every Monday, 9:00 p.m., on Astro Citra, channel 108, it can also be streamed via Astro GO or On Demand.
Dukun Diva: Actors and Actresses
Leading the cast line-up are strong and renowned actresses Nadia Aqilah, who plays Che Yah, a washed-up 90s actress who capitalises her talent to become a con shaman; Eyka Farhana, who plays Lola, Che Yah's troublesome niece and partner-in-crime; and Emelda Rosemila, who plays Dato' DD, a famous cosmetics millionaire whom Che Yah and Lola cons by preying on her superstitions.
Additionally, Dukun Diva features a mix of veteran and fresh faces, with the likes of Tony Eusoff, who for the first time plays a wife-fearing scammer; the talented new actress Siti Khadijah Halim as Baby Riena; Kahoe Hon as Daniel; as well as Adlin Aman Ramlie as Dato' Saddiq and Aloy Paradoks as Sergeant Anep, an extended character from the 2019 film Pusaka. The series is also peppered with special appearances by famous actors including Che Puan Juliana Evans, Douglas Lim, Aziz M Osman, Sanjana Suri, Anas Ridzuan, Mat London, Fadhli Masoot, and Dee Al Hadi.
Rising Local Talents
Famed for bringing fresh visual impact, rising director Ariff Zulkarnain (Shiba Shiba Doo, Cerai and Rompak Raya) graces Dukun Diva with his creative touch. Alfie Palermo, who won Best Script at the Bridge of Arts (IMFF) International Motivation Film Festival Awards, Russia in 2016 and Best Screenplay at the Color Comedy Awards in 2015, came up with the original idea for the 8-episode drama series.
Vice President, Malay Nusantara Business & Head of Astro Shaw, Raja Jastina Raja Arshad said, "Astro will intensify its focus on quality content by exploring more fresh ideas that offer variety and appeal to Malaysian Audiences. It is our desire that Astro Originals will continue to play a greater role beyond the value of entertainment and be seen as a brand that can present content comparable to premium dramas abroad. In prioritizing the Malaysian audience covering all walks of life, Dukun Diva focuses on the "Malaysian" context in terms of the script, storyline, ideas, actors, and cinematography so that this drama can satisfy the tastes of all audiences regardless of background. We are confident that if the work is widely accepted by the local community, it will also be able to make its mark in the foreign markets."
"This is the first time Astro Originals has taken a chance on the collaboration between local talents such as Alfie Palermo, Director Ariff Zulkarnain, as well as great actors, Nadia Aqilah, Eyka Farhana, Emilda Rosemila, Adlin Aman Ramlie and new talents Siti Khadijah Halim, and Kahoe Hon. Uniquely, Dukun Diva explores the topic of female 'anti-heroes', a topic rarely featured in local dramas. On top of that, the Dukun Diva brand has launched collaborations with local brands to produce exclusive Dukun Diva merchandise, including scented candles entrepreneurs Lampu Cherita and local chocolate supplier Love18c."
Director's Hopes and Expectations
Alfie Palermo, Director, Scriptwriter and Creator of Dukun Diva shares his excitement for audiences to catch Dukun Diva this December. "Our society is familiar with the term 'shaman', and there are some who misuse shaman practices. This inspired me to come up with Dukun Diva; a story of two ambitious women who pose as shamans to con a cosmetics millionaire and her family of their money. While there are many stories starring women as con artists abroad, this is a concept never seen before in Malaysia. By combining local elements with a modern setting, we believe that our series will bring a brand-new experience to audiences while upholding elements of local heritage, including the traditional kebaya and shaman practices."
"Thank you, Astro, for trusting me to present this idea to the viewers. Dukun Diva has a special place in my heart. In the series, Che Yah was willing to give up her dreams of becoming a famous actress for the sake of her loved ones. I hope Dukun Diva will be able to remind audiences that happiness cannot be achieved through dreams alone, but with the presence of our loved ones, especially family as the complement to true happiness. Meanwhile, Lola's character stands out as someone rebellious and is labelled as 'weird'. Relating to the feelings of someone who is labelled as 'weird', I hope to convey a message and say that they are not alone. I hope the audience will be entertained by the drama as much as we were excited to create it."
Dukun Diva: Brief Synopsis
Dukun Diva tells the story of Rubiah Samsudin, better known as Che Yah, who fails to live up to her dreams of becoming a famous actress and ends up working as a GRO at a nightclub in the city. Ashamed of her circumstance, Che Yah refuses to return to her village, until she gets an alarming call informing her that her sister is on the brink of death and that she now must take custody of her angsty, troubled niece, Lola. At wit's end to survive, the duo forms a dodgy plan to pose as bogus shaman and con people out of their money, beginning with famous cosmetics millionaire Dato' DD.
The first episode of Dukun Diva will be simulcasted on Astro Citra and Astro Ria at 9:00 p.m. on December 6. Catch the rest of the episodes every Monday, 9:00 p.m., exclusively on Astro Citra.
DUKUN DIVA TRIVIA
1. Dukun Diva has 8 episodes in total and 1 special episode (episode 9) that features 'The Story of Dukun Diva'.
2. The primary filming locations were in Kuala Lumpur, Kuala Kubu Bharu & Semenyih and took about 45 days to complete. Filming was halted on day 42 due to the Movement Control Order (PKP 3.0).
3. The theme song, Jangan Terlepas Pandang, is sung by Wani Kayrie.
4. Sergeant Anep is an extended character from the film Pusaka.
5. Each character has their iconic symbol: Che Yah – Kebaya, Pendant, Hairpin, Earrings. Lola – Choker Necklace. Dato' DD – Fan, Throne, female makeup products. Zul – Business Suit, Luxury Car. Daniel – Motorcycle, Skateboard, Telescope, Flute. Baby Riena – Telephone and Doll.
6. Dukun Diva collaborated with scented candle brand Lampu Cherita and local chocolate distributor Love 18C to bring life and uniqueness to the main characters of this Astro Originals drama. Limited edition Dukun Diva merchandise can be found on the official website of Lampu Cherita, www.lampucherita.com and Love 18C, www.love18c.com.
Astro customers can enjoy exclusive discounts through Astro Rewards website, subject to terms and conditions.
Catch Dukun Diva on Astro Citra at 9:00 p.m., beginning December 6. Alternatively, it can also be streamed via Astro GO or On Demand. For more information and entertaining clips, follow Astro Gempak and Astro Shaw's Instagram, Facebook and Twitter accounts.
---
Disclaimer: The web administrator is not responsible for any of the sender's comments or posts in the site's comments section. The sender is solely responsible for any comments or posts made.
For more articles, head onto CeritaMalaysia.