Best Glamping Spots in Malaysia
Searching for the best glamping spots in Malaysia? Malaysia has rich natural scenery and tropical beauty that is just waiting to be found. And what better way to enjoy it other than glamping? Come and check out Cik Min's best glamping spots in Malaysia to pitch a tent under the stars and spend the night in nature.
What is Glamping?
Glamping is an abbreviation for "glamorous camping,". It refers to a type of camping that includes amenities and, in some circumstances, resort-style services that aren't typically associated with "traditional" camping.
Glamping has grown in popularity among visitors who want amenities like Wi-Fi as well as the escapism and adventure of traditional camping. Glamping options include cabins, treehouses, and tents.
Best Glamping Spots throughout Malaysia
If glamping sounds like a great idea for you, let's have a look at some of the best Glamping spots in Malaysia according to Min's favorite.
1. Gopeng Glamping Park, Perak
Gopeng Glamping Park offers a pleasant and immersive experience surrounded by nature. It is popular among glamping enthusiasts as a romantic getaway or a weekend gathering with family and friends. It can also be utilised for team building, celebrations, retreats, and festivals.
Location: Gopeng Glamping Park, Lot 10846, Jalan Besar Kampung Chulek, 31600 Gopeng Perak, Malaysia.
Website | Facebook | Instagram
2. Nur Laman Bestari Eco Resort, Selangor
This Muslim-owned nature resort in Selangor offers a relaxing getaway from city life as well as a variety of accommodation options. You can spend the night in the resort's brand-new glamping tent, which features modern amenities such as chalets and riverfront villas.
Each glamping tent has five mattresses, a portable fan and air conditioner, fresh bedding, and use of a nearby lavatory. There is a cutlery, barbecue grill, and instant drink packages accessible.
Location: Nur Laman Bestari Eco Resorts, Astana Era Mewah, Hq Nur Eco Resort, 40160 Sungai Buloh, Selangor.
Website | Facebook | Instagram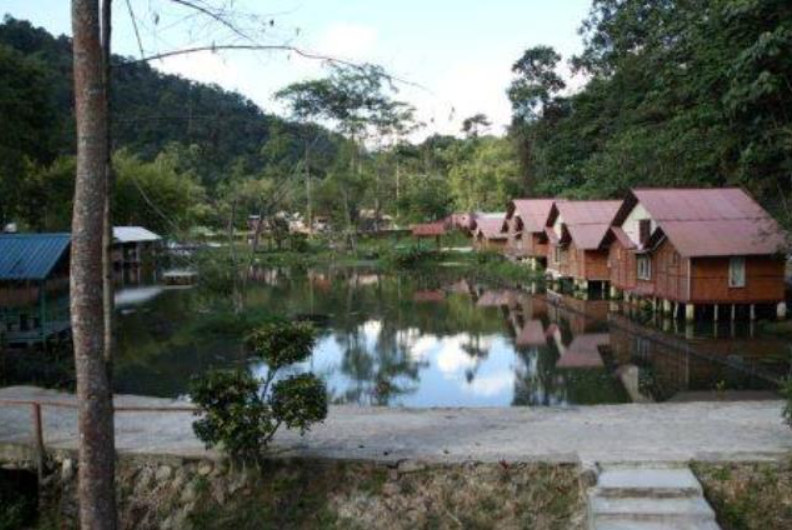 3. Tiarasa Escape, Janda Baik, Pahang
Tiarasa Escapes is a gorgeous and rustic glamping site founded by Puan Sri Tiara Jacquelina. There are 20 beautiful tented rooms and 5 rooftop villas constructed of repurposed wood available for rent. The glamping site has huge verandahs, colorful tribal furnishings, dreamcatchers, teepees, and hammocks to relax in with your friends and family.
Location: Persiaran Enderong, Kampung Janda Baik, 28750 Bentong, Pahang.
Website | Facebook | Instagram
4. Sea Horizon Resort Glamping, Kota Tinggi, Johor
This glamping site overlooks the South China Sea and is known as Malaysia's first cliffside glamping spot by the sea. Spend the night in an air-conditioned Stargazer Dome perched on a cliff, where you can stargaze from your bed. This resort is located in the fishing village of Sedili Besar, therefore you can anticipate a variety of water sports activities such as kayaking, paragliding, and many more.
Location: Lot 901, Kuala Sedili Besar 81900 Kota Tinggi Johor.
Website | Facebook | Instagram
5. Umea Glam Kundasang, Sabah
This glamping spot offers great views of the surrounding landscapes and plenty of fresh air. It is made up of four igloo-style domes, each with its own distinct design and furniture. The rustic yet charming furnishings in the flats include tapestry rugs, hardwood floorboards, warm chairs, and modest beds.
Location: Jln Golf Course Mesilau 89308 Ranau Sabah.
Website | Facebook | Instagram
Be it in the middle of the jungle or up on the cliffside, a beautiful and glamorous camping experience is a perfect way to spend your weekend with family and friends. Min hopes there is someplace in this list of the best glamping spots in Malaysia that you'll fall in love with. Happy glamping!
Want to find more articles like "Best Glamping Spots in Malaysia"? If yes, kindly head to our portal, Cerita Malaysia today!
---
Disclaimer: The web administrator is not responsible for any of the sender's comments or posts in the site's comments section. The sender is solely responsible for any comments or posts made.
Trend, Travel & Filem.