Sky Dining in Malaysia for Special Occasions
Want to experience sky dining in Malaysia with a romantic atmosphere for special occasions? Malaysia has beautiful skyscrapers and tall buildings in all its big cities. Thus, the sky dining restaurant scene in Malaysia has evolved as a popular alternative for people looking for a good meal time.
Do you know any of the sky dining places in Malaysia? If you don't, then Cik Min's sharing today will be just the right one for you!
Where Are Malaysia's Sky Dining Spots Located At?
Discovering new cuisine is exciting, but some restaurants literally take dining to new heights! Sky dining on this list of 'Sky Dining in Malaysia' will enchant you and your company with its breathtaking views and delectable cuisines.
Nonetheless, it should be noted that these establishments may serve alcohol and non-halal food. It's best to call the restaurant for confirmation beforehand for your assurance! Without further ado, here is a list of Sky Dining restaurants in Malaysia.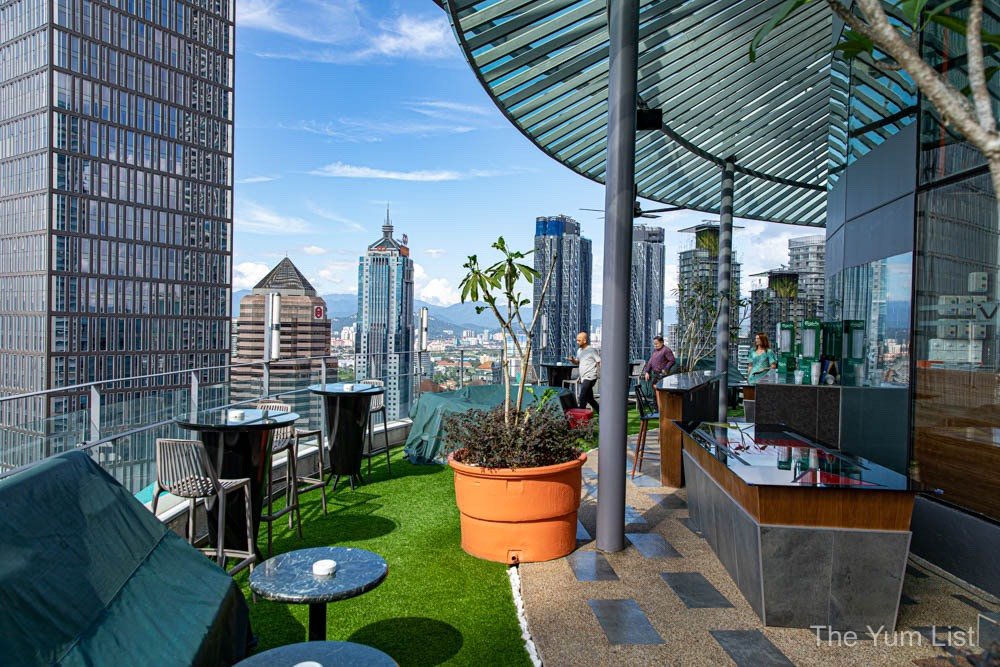 Envi Sky dining is a rooftop fusion dining and bar that delivers delectable local and western cuisine, on a magnificent terrace with views of natural surroundings. Envi Sky dining is only 400m from the Petronas Twin Towers and provides a breathtaking 360-degree view of Kuala Lumpur's spectacular skyline.
There is also a separate bar with a higher chair where you may enjoy the view while eating. You have the option of sitting outside or under the roof. Either way, both will still provide you with a fantastic time!
Address: Menara TA One, 22, Jalan P. Ramlee, Kuala Lumpur, 50250 Kuala Lumpur.
Contact Number: +019 771 7170
Operating Hours
Mon – Fri: 11:00 a.m. – 3:00 p.m., 5:00 p.m. – 12:00 a.m.
Sat, Sun & PH: 5:00 p.m. – 12:00 a.m.
Envi Skydining is a pork-free restaurant, serving Halal-certified meat. For more info or reservation, kindly head to their social platforms below.
Facebook | Instagram | Website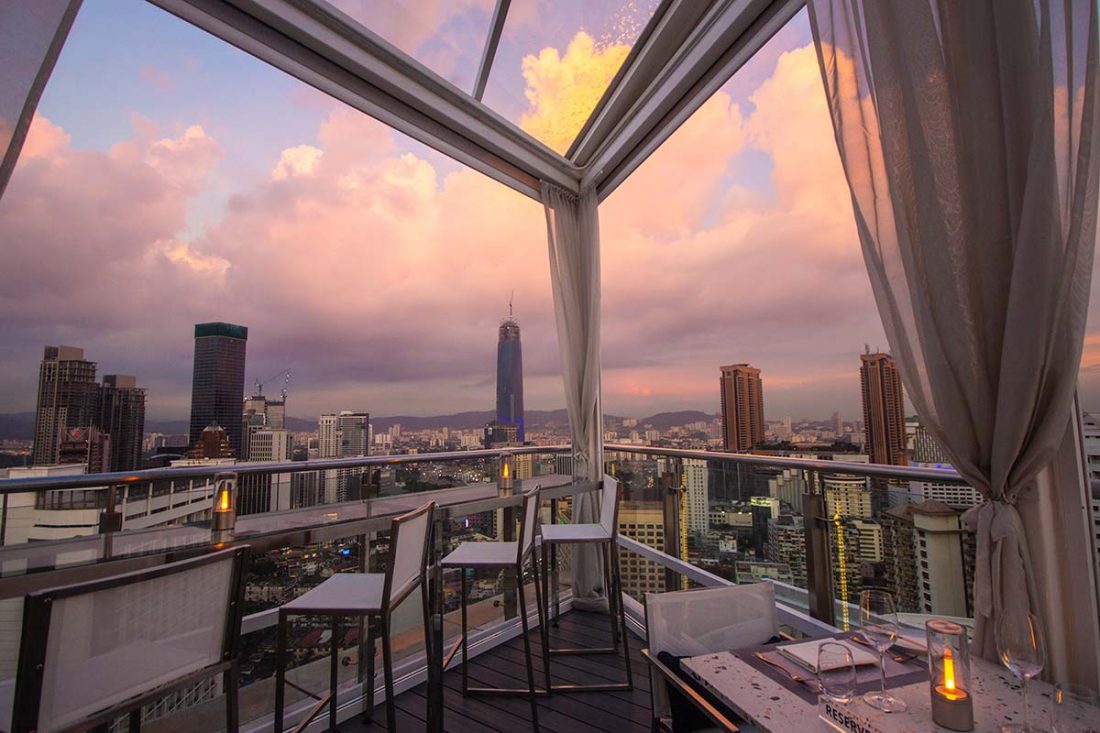 Cielo KL sought to provide a gourmet dining experience by using imported fish and creating an ambiance that encourages you to remain late. No expense is spared in creating a romantic ambiance!
From the retractable roof that opens up to reveal the night sky, to the beautifully placed tables, everything is placed meticulously to provide a romantic and soothing ambiance for their patrons. In addition, the Bluetooth-controlled table lighting changes as the evening goes on.
Address: 23-01, 1D VIDA, Bukit Ceylon, Jalan Ceylon, 50200 Kuala Lumpur.
Contact Number: +603 2022 1798 | +6012 365 5059
Operating Hours
Tue – Thu & Sun: 6:00 p.m. – 1:00 a.m.
Fri – Sat: 6:00 p.m. – 2:00 a.m.
Facebook | Instagram | Website
3. Three Sixty Revolving Restaurant, Penang
Three Sixty Revolving Restaurant is the ideal venue to take in the city's enchanting nightlife atmosphere. From there, patrons may enjoy the breathtaking views of colonial Penang and its legion of twinkling lights.
Their comprehensive "The Best of Penang Buffet," which is served every evening, offers delicious local specialties. Among them, include Kerabu Chicken with Black Fungus, Laksa Lemak Soup, and Beef Rendang.
Following dinner, guests can unwind in the Sky Bar's circular lounge or enjoy the cool breeze on the open-air terrace while a DJ offers the perfect chill-out soundtrack.
Address: 25-A, Farquhar Street, 10200 Penang, Malaysia.
Contact Number: +604 263 3161
Operating Hours
Mon – Sun: 4:00 p.m. – 1:00 a.m.
Their buffet is prepared by an all-Muslim team of chefs and is pork and alcohol-free. They also use meats sourced from halal suppliers.
Facebook | Instagram | Website
4. Pampas Sky Dining, Melaka | Sky Dining Spots in Malaysia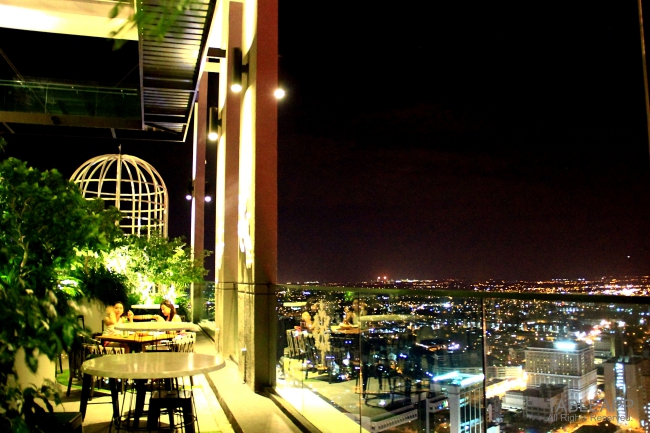 Pampas Sky Dining, located on the 41st floor of Swiss Garden Residential, provides a 360-degree panoramic view of the city, including the famous Melaka River. Patrons can also enjoy the stunning sunset with a cocktail before returning inside for a meal as delightful as the view.
Pampas Sky will make sure that their guests have a memorable evening by serving expertly selected steak cuts and the freshest seafood.
Address: 41st Floor, Tower, The SHORE, Jalan Persiaran Bunga Raya, 75100 Melaka.
Contact Number: +6017 707 2731
Operating Hours
Tue – Sun: 4:00 p.m. – 12:00 a.m.
Facebook | Instagram | Website
If you want to indulge your special guest with delicious Japanese cuisine, venture to the highly acclaimed Nobu Kuala Lumpur. They provide a premium sky dining experience in Malaysia with their unwinding ambiance and first-rate service.
There, guests may try the Japanese A5 wagyu, which they can choose to enjoy with a variety of Tataki, New style, Steak, or Toban Yaki styles.
Address: L4A-05, Level 4A Shoppes at Four Seasons Place Kuala Lumpur No, 145, Jalan Ampang, 50450 Kuala Lumpur, Federal Territory of Kuala Lumpur.
Contact Number: +603 2380 0028 | +6019 389 5085
Operating Hours
Mon – Sun: 6:00 p.m. – 9:30 p.m.
Instagram | Facebook | Twitter | Website
You've heard it before: every occasion deserves to be celebrated. Whether you want to throw a celebration for a loved one's birthday or serve your parents a dinner under the sky, you may now arrange a memorable evening at one of these Sky Dining in Malaysia based on Cik Min's list. Hope this helps!
Want to find more articles like "Sky Dining in Malaysia for Special Occasions"? If yes, kindly head to our portal, Cerita Malaysia today!
---
Disclaimer: The web administrator is not responsible for any of the sender's comments or posts in the site's comments section. The sender is solely responsible for any comments or posts made.
Trend, Travel & Filem.